Information
About MoreLaw
Contact MoreLaw

Please E-mail suggested additions, comments and/or corrections to Kent@MoreLaw.Com.
Help support the publication of case reports on MoreLaw
Date: 11-20-2018
Case Style:
Michael Parga, Richard Feltz, Christopher Wood and Tara O'Donley v. Tulsa County, et al.
Case Number: 4:18-cv-00298-CVE-JFJ
Judge: Claire V. Eagan
Court: United States District Court for the Northern District of Oklahoma (Tulsa County)
Plaintiff's Attorney: Alexander Karakatsanis, Akeeb Dami Animashaun, Charles Lewis Gerstein,
Hayley Elizabeth Horowitz, Ruth Ellen Lando Hamilton and Ryan Downer
Defendant's Attorney: Douglas Allen Wilson and Kimberly Majors Hall for Vic Regalado


Stefanie Erin Lawson for Terry H. Bitting, et al.
Description: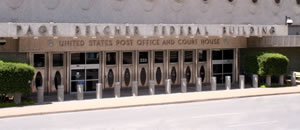 Tulsa, OK - Michael Parga, Richard Feltz, Tara O'Donley, Christopher Wood, Vic Regalado, Terry H Bitting, Tammy Bruce, Martha Rupp Carter, Stephen R Clark, Theresa Dreiling, Owen Evens, James W Keeley, Deborah Ludi Leitch, J Anthony Miller, Dawn Moody, Millie Otey, Kirsten Pace, April Seibert, Clifford Smith, Sarah Smith, William Musseman and Board of County Commissioners of the County of Tulsa on civil rights violation theories claiming that the Defendants violated the Plaintiffs' civil rights by arbitrarily and capriciously held them in the Tulsa County jail for no reason other than that they were too poor to make bail.

That Tulsa County's judges had hit the easy button for years by imposing bail bond requirements on poor individuals without regard to the flight risks of the person being held on charges in the jail.

Outcome: 11/19/2018 40 OPINION AND ORDER by Judge Claire V Eagan that moving defendants' motion to dismiss (Dkt. # 24) is declared moot. Plaintiffs' motion for class certification (Dkt. # 3) is declared moot. Plaintiffs' amended complaint (Dkt. # 32) is dismissed without prejudice as moot. ; finding as moot 24 Motion to Dismiss; finding as moot 3 Motion for Class Action Certification (Re: 32 Amended Complaint, ) (RGG, Chambers) (Entered: 11/19/2018)
11/19/2018 41 JUDGMENT by Judge Claire V Eagan (JUDGMENT OF DISMISSAL), dismissing/terminating case (terminates case) (Re: 40 Opinion and Order,,,, Ruling on Motion to Dismiss,, Ruling on Motion for Class Action Certification, ) (RGG, Chambers) (Entered: 11/19/2018)
11/19/2018 ***Civil Case Terminated (see document number 41 ) (sac-qc, Dpty Clk) (Entered: 11/19/2018)



01/16/2019 47 REPLY to Response to Motion (Re: 42 MOTION to Reconsider Order and Judgment Dismissing Case as Moot and Denying Class Certification Motion MOTION to Alter Order/Judgment ) by Richard Feltz, Tara O'Donley, Michael Parga, Christopher Wood ; (Gerstein, Charles) (Entered: 01/16/2019)

Plaintiff's Experts:

Defendant's Experts:

Comments: Editor's Comment: It is pretty clear that Tulsa County's judges have been violating the 14th Amendment rights of poor people for a long time. The judge's ruling is a minor setback. Eventually, the Tulsa County system for imposing bail requirements will be declared to be unconstitutional.

Tulsa's "system" for setting bail bond requirements on arrestees has been very arbitrary and capricious for a long time and has unnecessary harmed poor Tulsans. Tulsans who have been accused of murder have been released on bond and Tulsans who have committed non-violent felonies have been held for long periods of time for no other reason than they they are too poor to come up with the money to pay a bailbondsman the premium for the bond.

It will be interesting to see if the Plaintiffs appeal or a new set of plaintiffs file a new case.