Please E-mail suggested additions, comments and/or corrections to Kent@MoreLaw.Com.
Help support the publication of case reports on MoreLaw
Date: 05-17-2018
Case Style:
United States of America v. Noel A. McFadden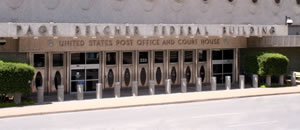 Northern District of Oklahoma Federal Courthouse
Tulsa, Oklahoma
Case Number: 4:18-cr-00003-GKF
Judge: Gregory K. Frizzell
Court: United States District Court for the Northern District of Oklahoma (Tulsa County)
Plaintiff's Attorney: Jeffrey Andrew Gallant
Defendant's Attorney: Stanley Dwight Monroe
Description: Tulsa, OK - Retired Tulsa Police Officer Sentenced to 30 Years' In Prison For Sexual Exploitation

The United States of American charged Noel A. McFadden, age 71, with:

Count: 1 Citation: 18:2251.F Offense Level: 4
18:2251(a) and 2251(e): Sexual Exploitation of a Child
Count: 2 Citation: 18:2422.F Offense Level: 4
18:2422(b): Enticement
Count: 3 Citation: 18:2252A.F Offense Level: 4
18:2252(a)(4)(B) and 2252(b)(2): Possession of Child Pornography

The Government claimed that McFadden enticed and exploited two girls.
Outcome: Defendant was found guilty and was sentenced to 30 years' in prison.
Plaintiff's Experts:
Defendant's Experts:
Comments: