Please E-mail suggested additions, comments and/or corrections to Kent@MoreLaw.Com.
Help support the publication of case reports on MoreLaw
Date: 08-09-2018
Case Style:
United States of America v. Claudia Lynette Shivers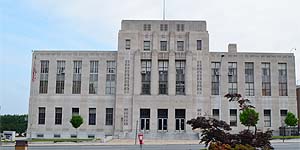 Middle District of North Carolina Federal Courthouse - Winston-Salem, North Carolina
Case Number: 1:18-cr-00206-WO
Judge: William L. Osteen
Court: United States District Court for the Middle District of North Carolina (Forsyth County)
Plaintiff's Attorney: Clifton Thomas Barrett and Robert J. Boudreau
Defendant's Attorney: Micah Huggins
Description: Winston-Salem, NC - North Carolina Tax Return Preparer Pleads Guilty to Conspiring to File False Tax Returns

A Winston-Salem, North Carolina resident pleaded guilty on August 8, 2018 to conspiring to defraud the United States by filing false tax returns, announced Principal Deputy Assistant Attorney General Richard E. Zuckerman of the Justice Departmentís Tax Division and U.S. Attorney Matthew G. T. Martin of the Middle District of North Carolina.

According to court documents, Claudia Lynette Shivers conspired with others to defraud the Internal Revenue Service (IRS) by preparing false tax returns. Shivers co-owned and operated two tax return preparation businesses: Fast Tax of Winston-Salem, Inc. in Winston-Salem and Quick Taxes LLC in Greensboro. Shivers and her co-conspirators falsified items on clientsí tax returns, such as dependents and Schedule A deductions, in order to fraudulently maximize their refunds. Shivers also directed clients to hand-write false information on tax forms and other documents used in the preparation of their returns. Shivers further admitted that she held training sessions for her employees, during which she would instruct them on how to manipulate the information on tax returns in order to obtain refunds to which the clients were not entitled. Between January 2014 and April 2017, Shivers and her co-conspirators prepared approximately 519 false tax returns, which claimed approximately $1.3 million in bogus refunds.

Shivers faces a statutory maximum sentence of five years in prison, as well as a period of supervised release, restitution and monetary penalties.

Shiverís co-conspirators, Shannon DeWayne Patterson, Kristyn Dion Daney, and Rakeem Lenell Scales, have all pleaded guilty to charges of aiding and assisting in the preparation of false tax returns and are awaiting sentencing.

Principal Deputy Assistant Attorney General Zuckerman and U.S. Attorney Martin commended special agents of IRS Criminal Investigation, who conducted the investigation, and Trial Attorneys Robert J. Boudreau and Lauren Castaldi of the Tax Division and Criminal Division Chief Clifton T. Barrett of the Middle District of North Carolina, who are prosecuting the case.

Additional information about the Tax Division and its enforcement efforts may be found on the divisionís website.


Charges:


18:371 Conspiracy to file false income tax returns
(1)
26:7206(2) Aid/Assist in filing false tax returns
(2-10)
26:7206(1) False statements on income tax returns
(11)


Outcome: 07/30/2018 10 PLEA AGREEMENT as to CLAUDIA LYNETTE SHIVERS. (Garland, Leah) (Entered: 07/30/2018)
08/03/2018 11 Factual Basis Document as to CLAUDIA LYNETTE SHIVERS filed on 8/3/2018 (BARRETT, CLIFTON) (Entered: 08/03/2018)
08/08/2018 Case as to CLAUDIA LYNETTE SHIVERS reassigned to JUDGE WILLIAM L. OSTEEN, JR. UNASSIGNED no longer assigned to the case. (Welch, Kelly) (Entered: 08/08/2018)
08/08/2018 Minute Entry for proceedings held before JUDGE WILLIAM L. OSTEEN, JR., in G-1: CHANGE OF PLEA HEARING held on 8/8/2018. AUSA Cliff Barrett present on behalf of the Government. Attorney Micah Huggins appeared on behalf of the Defendant. Defendant present on bond. Defendant placed under oath and advised of rights/charges/penalties; Court reviews the plea agreement; CLAUDIA LYNETTE SHIVERS (1) Plea of guilty on Count 1. Remaining Counts to be dismissed at sentencing. Court finds the Defendant is competent to enter a guilty plea; Plea accepted and defendant adjudged GUILTY as to Count 1; Court orders the preparation of a Presentence Report. Sentencing set for 12/20/2018 09:30 AM in Greensboro Courtroom #1 before JUDGE WILLIAM L. OSTEEN JR. Defendant allowed to remain out on pretrial release on the same terms and conditions as were previously imposed. (Court Reporter Joseph Armstrong.) (Welch, Kelly) (Entered: 08/08/2018)
Plaintiff's Experts:
Defendant's Experts:
Comments: