Information
About MoreLaw
Contact MoreLaw

Please E-mail suggested additions, comments and/or corrections to Kent@MoreLaw.Com.
Help support the publication of case reports on MoreLaw
Date: 06-13-2018
Case Style:
United States of America v. Tynesha Renne Dorsey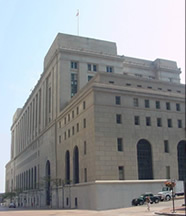 Western District of Pennsylvania Courthouse - Pittsburgh, Pennsylvania
Case Number:
Judge: Mark R. Hornak
Court: United States District Court for the Western District of Pennsylvania (Allegheny County)
Plaintiff's Attorney: Robert S. Cessar
Defendant's Attorney: Not Available
Description: Pittsburgh, PA - Pittsburgh Woman Sentenced to Probation with Home Confinement for Operating a Forged Prescription Ring

An Allegheny County resident has been sentenced in federal court to 54 months probation, with 11 months of home confinement, and ordered to pay $3,434 in restitution on her conviction of conspiracy to commit offenses against the United States, United States Attorney Scott W. Brady announced today.

United States District Judge Mark R. Hornak imposed the sentence on Tynesha Renee Dorsey, 46, of Pittsburgh, PA.

According to information presented to the court, Dorsey, and two codefendants operated a forged prescription ring. Prescriptions were forged with the names, DEA numbers, medical license numbers, and signatures of real medical doctors. The prescriptions, most of which were forged for oxycodone and Percocet, were filled at a large number of Western Pennsylvania pharmacies and primarily paid for with Medicaid funds. The fraudulently obtained prescription pills were then sold on the street for substantial profit.

United States Attorney Brady commended the Federal Bureau of Investigation, Drug Enforcement Administration, Pittsburgh Bureau of Police, Brentwood Police Department, Mt. Pleasant Police Department and Bellevue Police Department for the investigation leading to the successful prosecution of Dorsey.
Outcome: Defendant was sentenced to 54 months probation, with 11 months of home confinement, and ordered to pay $3,434 in restitution.
Plaintiff's Experts:
Defendant's Experts:
Comments: